Shawn Blanton Memorial
Baseball & Softball Training Facility
Completed in 2010 with help from the scholarship!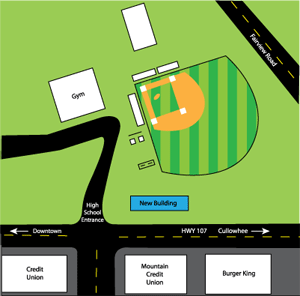 The Project:
Smoky Mountain High School (SMHS) is in the process of raising funds for an indoor training facility for baseball and softball.
The Building:
The 80 x 60 metal building will have four (4) lanes for hitting and pitching. It will be located at the SMHS baseball field, parallel to Highway 107.
The Request:
Preliminary plans suggest the building can be purchased for approximately $50,000. SMHS is inviting ten donors ro give $5,000 each. The donors will have a 4′ x 8′ sign placed on the building vivible to Highway 107. Donor signs will be a permanent part of the building. Additionally, field advertising signs will be located on the outfield fences at both the baseball and softball fields.